Second Lieutenant VIDAL RODRIGUEZ AMARO, 02034123, Infantry, Company "I", 65th Infantry Regiment, 3d Infantry Division, United States Army. On the morning of 26 September 1952, a platoon of Company "I", led by Lieutenant RODRIGUEZ AMARO, was assigned the mission of making contact with and locating enemy positions on a hill known as "KELLY" in the vicinity of Koyangdae, Korea. While leading his men to the crest of the hill, Lieutenant RODRIGUEZ AMARO sustained a serious leg wound when the friendly unit was subjected to intense hostile machine gun fire. Disregarding his painful wound and ignoring the heavy hostile fire, he ordered his men to fix bayonets and fearlessly continued in the attack. The foe immediately counteracted the bayonet charge by subjecting the friendly forces to an intense barrage of mortar and artillery fire. Realizing that it would be fatal to continue in the attack in the face of such devastating fire, Lieutenant RODRIGUEZ AMARO ordered his men to withdraw. Refusing medical aid and evacuation, he directed the withdrawalof his unit. Upon seeing a wounded soldier that was unable to participate in the retrograde, he selflessly and with complete disregard for his personal safety, carried the casualty through the shrapnel torn area towards a position of safety. During this act, he received additional wounds of a serious nature but again refused medical aid and evacuation until all friendly casualties had been removed to positions of safety. Lieutenant RODRIGUEZ AMARO'S outstanding gallantry and inspirational leadership were highly instrumental in the unit successfully accomplishing its mission and reflect the highest credit upon himself and the military service. Entered the Federal service from Puerto Rico.

Source: Record Group 338: General Orders 3rd Infantry Division, Boxes 129 to 131 -National Archives and Records Administration, College Park, Maryland.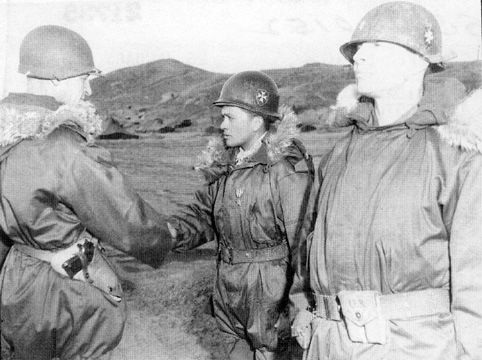 2ND LT VIDAL RODRIGUEZ AMARO (CENTER), CO "I", 65TH INF REGT, 3RD U.S.
INF DIV, IS CONGRATULATED UPON RECEIVING THE SILVER STAR MEDAL, BY
COL CHESTER B DE GAVRE, CO, 65TH INF REGT, 3RD U.S. DIV, AT THE 65TH INF
REGT COMMAND POST, KOREA