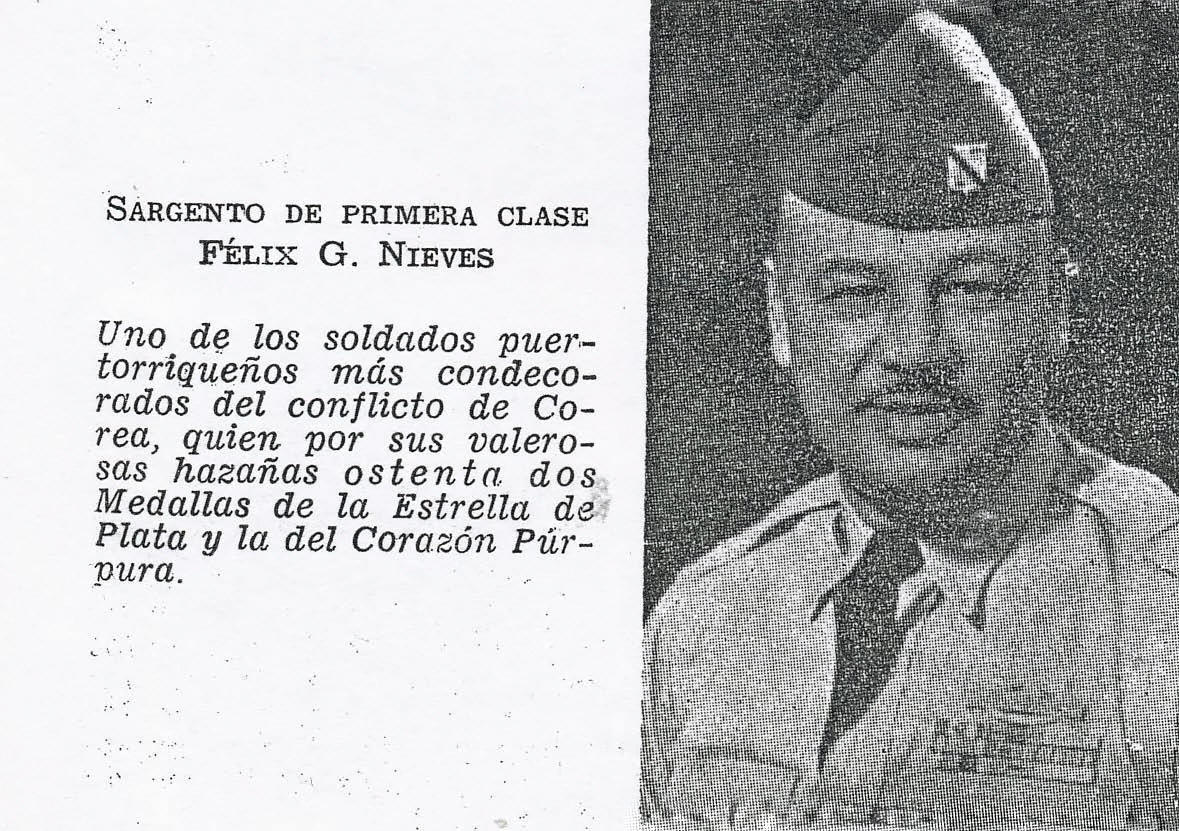 SFC Felix G. Nieves - Source - Historia del Regimiento 65 de Infanteria by Jose Norat Martinez
HEADQUARTERS 3D INFANTRY DIVISION
GENERAL ORDERS - NUMBER 71 - 22 MARCH 1951
AWARD OF THE SILVER STAR --By direction of the President under the Act of Congress approved 9 July 1918 (WD Bulletin 43, 1918), the Silver Star for gallantry in action is awarded to the following named enlisted men.

Sergeant First Class Felix G. Nieves, RA10402044, Infantry, Company "G", 65th Infantry, 3d Infantry Division, United States Army. On 11 December 1950, near Sudong-ni, Korea, Sergeant Nieves displayed extraordinary heroism in action against an armed enemy. His company had been holding off a numerically superior force of the enemy for three days while protecting the vitally important withdrawal of members of the 1st. Marines and 7th Infantry Divisions toward Hamhung. After the final group of soldiers and marines had passed G company's defense positions, the company was ordered to withdraw and serve as a rear- guard for the main body of troops as far south as Majong-dong. Sergeant Nieves' platoon was ordered to cover the company's withdrawal and his squad to cover the withdrawal of the platoon. As the platoon was completing its withdrawal, an enemy attack in force developed. Sergeant Nieves fearlessly ordered his squad to withdraw as he alone defended the position in the face of heavy enemy machine gun and small arms fire. He killed at least eighteen of the enemy and caused the remainder to become confused and disorganized, allowing his squad to gain the comparative safety of the retreating column. Sergeant Nieves' ability in the use of his basic infantry weapons, the hand grenade and rifle, as well as his great courage saved the lives of many of his follow soldiers. His extraordinary heroism reflects great credit upon himself and is in keeping with the highest traditions of the military service. Entered the military service from Puerto Rico.
Source: Record Group 338: General Orders 3rd Infantry Division, Boxes 129 to 131 -
National Archives and Records Administration, College Park, Maryland.